Las Vegas is probably the most bizarre city I have ever visited. It sure isn't like anything else! Arriving at the airport, which I blogged about yesterday, would give a fair hint of that. But more about that later, first things first.
The past few days I had been communicating with a bookcrosser here in Las Vegas about meeting up, and at noon she came to pick me up. We headed to the Town Square, where we were to meet with another bookcrosser. We found something to eat, and sat outside in the small park there. It was fun to chat about bookcrossing and such. We then went for what we call a "release walk", which basically means walking around and leaving bookcrossing books around.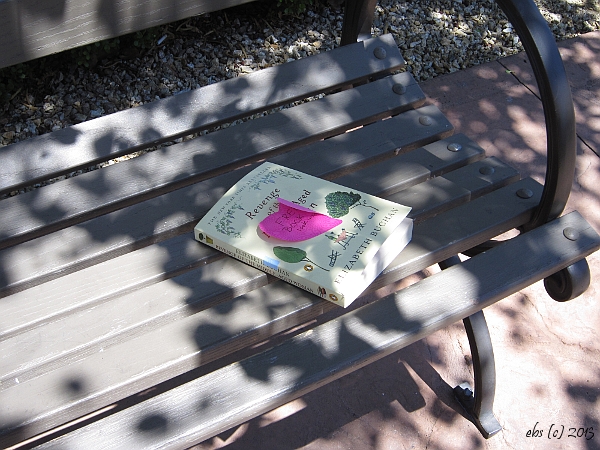 The other bookcrossers had brought their kids, and after the release walk, the kids got to play in an area with some water fountains designed for that very purpose. Brilliant in my opinion, especially in the Las Vegas heat, which is more intense than any heat I have ever experienced before. We're talking about temperatures of almost +39°C (or +102°F).
After the other bookcrossers had left, I walked around the Town Square for a bit, even managed to find a pair of nice, comfortable, black sandals that I've been searching for for ages. After that, I bought something cold to drink, and sat down to read in the park, while waiting for my friend D to pick me up.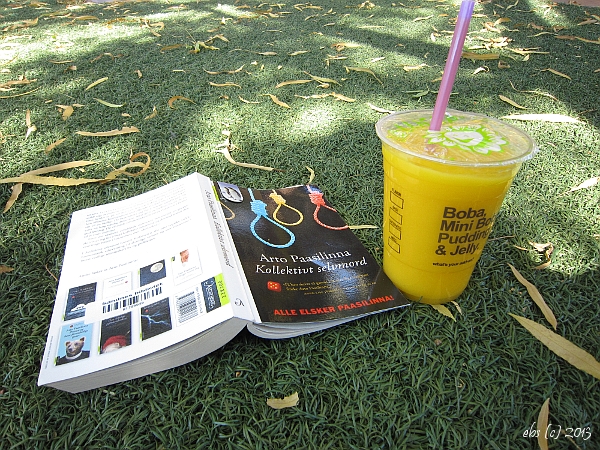 After relaxing and reading for a wee while, my friend D, whom I've known online for over a decade, came to pick me up. He took me to the beautiful Red Rock Canyon. Las Vegas is in the dessert, and even though the heat in the city is intense, it's better out in the canyon. You have a bit more air, so to say.
Red Rock Canyon is situated 24 km (15 miles) outside the city of Las Vegas, and when you see the mountains you immediately understand the name: The rocks are indeed red. It is simply beautiful, and I found it to be quite breath taking.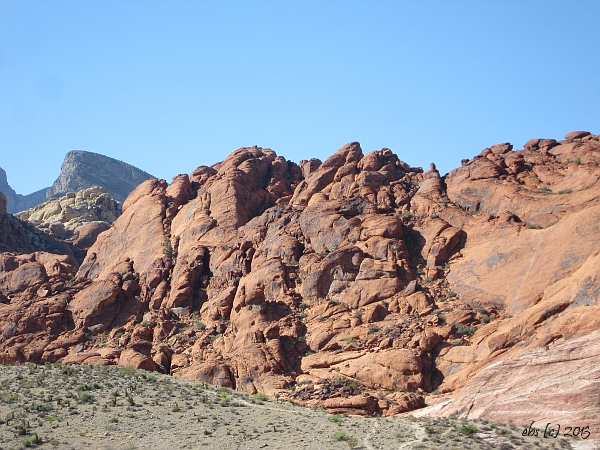 D took me around the scenic route, which is a drive of 21 km (13 miles), and we had a few stops to enjoy the view. At Sandstone Quarry we even experienced a moment of silence: No cars, no people talking, just the breeze. It was broken by a car approaching, but the short moment was quit wonderful.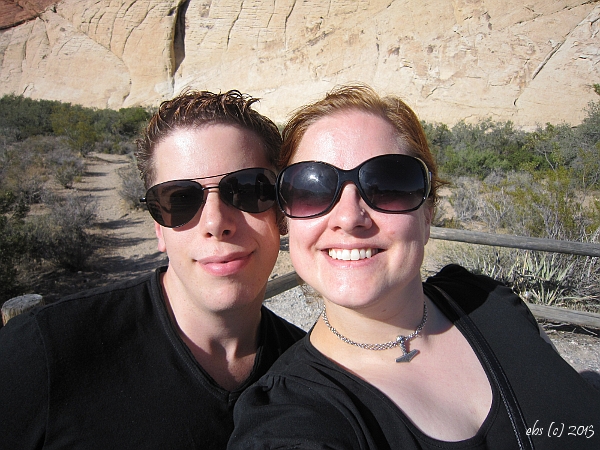 After the visit to Red Rock Canyon, we headed to have dinner at a restaurant. The menu was an interesting read. It stated it had over 30 vegetarian dishes (but where were they all?), and had several warnings. One of the warnings really made me laugh out load: The olives had pits! OK, so I know that they often remove the pits from olives, but the good ones should still have them.
I ordered the Greek salad, that was supposed to have olives and feta cheese. I love olives and feta cheese. However, when the salad arrived, I thought it was a sad excuse for a Greek salad. The feta cheese I'm not sure was real feta cheese. It neither looked nor tasted like it.
After dinner, D dropped me off at my hotel (I'm staying at the Aria), and I had a rest in my room before heading out again. I went for a walk on the north part of the Strip. The Las Vegas Strip really is somthing else – this is where you find all the main hotels and casinos in the city, and it's full of billboards, neon lights, music coming from "nowhere" (not really, but it feels that way), and people.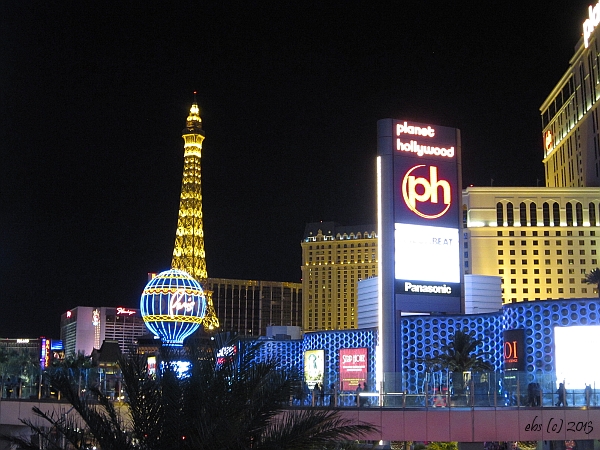 I went up to the Bellagio, which is famous for its spectacular water fountain show. The show is designed in a way so that it seems as if the water "dances" to the music. I stayed for two whole shows, and they were actually two different shows: One was to the Beatles' song "Lucy in the Sky with Diamonds", the other was to Michael Jackson's "Billy Jean". I took a lot of footage, which you can see it the video below.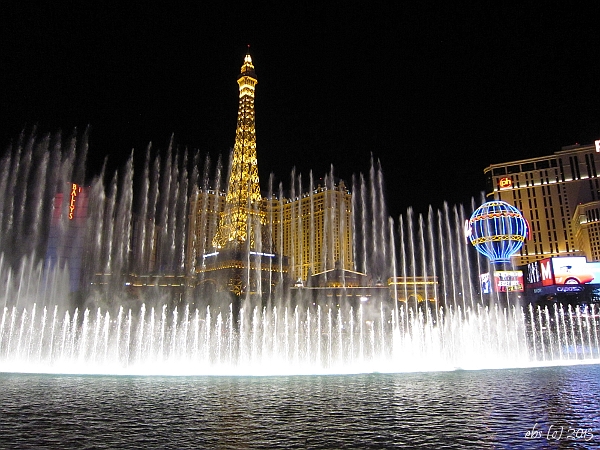 After my walk, I headed back to the hotel, and ended my first proper day in Las Vegas.